Jo-Anne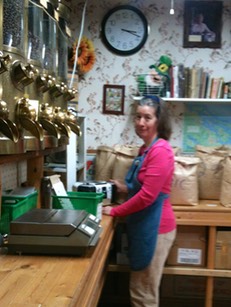 Jo-Anne does double duty because she is also an office elf.  Before starting to bag the coffee, Jo-Anne processes all our customer's orders from A to L.  
Then, while Pierre is roasting the coffee, 
Jo-Anne starts to hand pack each pound making sure it is blended to perfection and weighed accurately.  She puts each assembled order in big trays ready for Sue to wrap.
Sue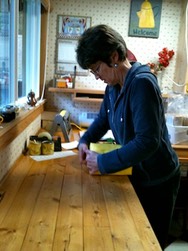 Sue is our excellent quality control person who double checks everything about your order before neatly wrapping it, sorting it by postal code, and finally boxing up all the parcels into the Canada Post tubs ready to mail early Monday morning.  Sue also does our Thetis Island home deliveries on Monday morning.
Sue with some orders still to wrap and others all finished and sorted by postal code.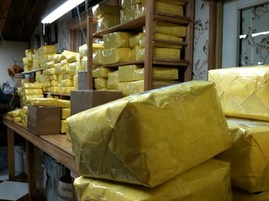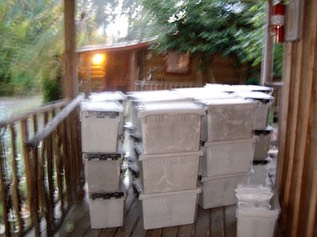 These are the Canada Post tubs filled with all the orders early on Monday morning ready to be brought across on the ferry to Vancouver Island for mailing.